Airing the weekend of March 18 & 19, 2000: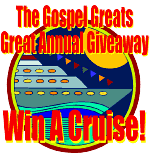 SPECIAL! This is week #3 of our month-long 20th anniversary "Great Annual Giveaway 2000" on The Gospel Greats program. The grand prize is the Singing At Sea cruise to the Bahamas this June plus $1,000 cash!
The #2 grand prize is a Limited Edition collector's print of the Mitchell Tolle painting "Handing Down the Heritage," the original of which is on display at the Southern Gospel Music Hall of Fame and Museum, Pigeon Forge, TN.
500 other winners win Singing News Subscriptions. And at least 2000 win valuable discount coupons for Southern Gospel music from Springside 1-800-38-MUSIC. Details are on our web site. But for this major giveaway you must listen to qualify (you need a "password" given on the air).



FEATURED ARTISTS: The Squire Parsons Trio. (Songs from their current "He Found Me" recording. Interviews with Squire, Seth and Greg.)

OTHER INTERVIEWEES: Jerry Kirksey (Singing News editor, about that publication's 30th anniversary and the unusual way it all started); Tim Duncan (Poet Voices); more.

UPDATE: Latest on Roger Bennett; George Younce on his health now, plus the recent "card shower" from The Gospel Greats listeners (you'll be amazed at how many cards he got -- and they're still pouring in!); more.
---